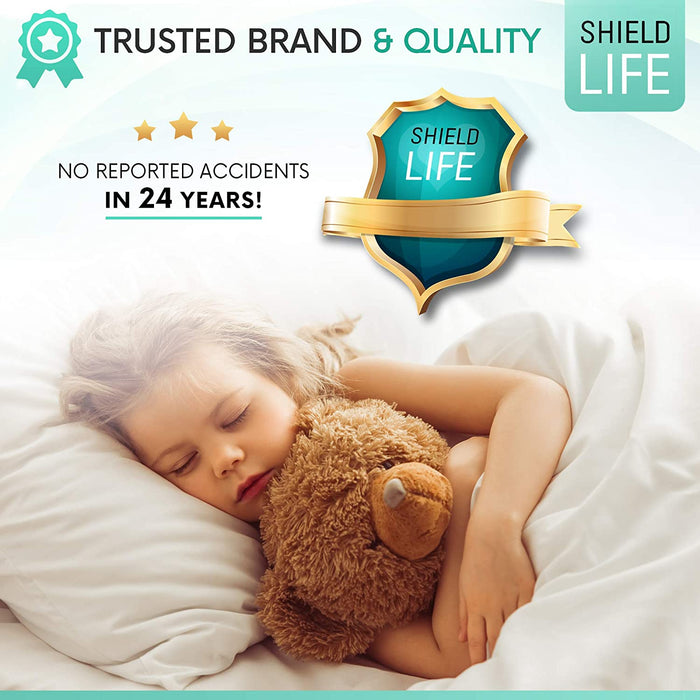 The ShieldLife TheraMat Lite Heated Mattress Pad is designed with a patented technology that virtually eliminates the risk of prolonged exposure to electrical fields.  The specially designed heating element shields you from harmful electric fields. Features automatic shut off period to ensure the ultimate in sustained and comfortable sleep.


Electromagnetic Field (EMF) Shielding Technology eliminates up to 99% of harmful EMFs, while ordinary electric blankets generate large amounts of sustained EMFs. Shield Life's patented EMF Shielding technology allows for a maintained and rejuvenating night's rest.
Far Infrared (FIR) Heat and Negative Ions generated by the TheraMat Lite maximize comfort. Through absorption of FIR heat, muscle tissue is safely and gently stimulated to bring you to a new level of wellness. While conventional space heaters can evaporate ambient moisture, dehydrating your body and drying out your skin, the TheraMat Lite offers several levels of FIR heat that warm only desired areas.
Rated Voltage: AC 110-120V, 50-60Hz
Single 74" x 38" x 2"
Full 74" x 53" x 2"
The Shield Life TheraMat Lite Mattress Pads are meticulously constructed, turning your ordinary bed into plush, wellness sanctuary.