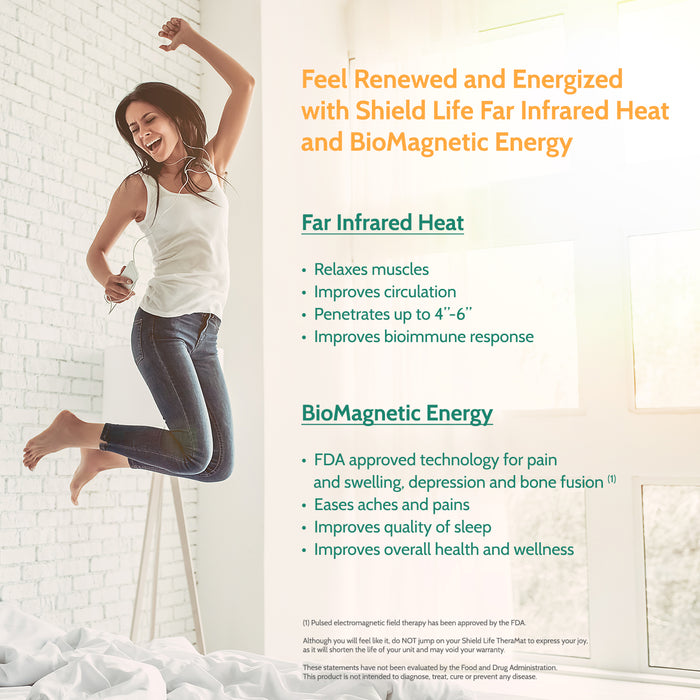 TheraMat Mattress Pad (2023 Full Size)
The Shield Life TheraMat Mattress Pad is a cozy mattress topper that provides warmth, comfort and safety. The TheraMat comes in Twin, Full, Queen and King-size. Dual climate control is available for the Queen- and King-size TheraMats. The TheraMat is constructed with 5 layers of comfort and technology including a soft, anti-microbial, 100% cotton.
Rest Assured knowing that you can save up to $131 on winter heating bills and be able to reduce your carbon footprint. The TheraMat Mattress is hand-crafted in Korea with the finest materials and most advanced components. Continuous heat sensing technology and an automatic 10-hour shut off period ensure the ultimate in sustained and comfortable sleep.
Electromagnetic Field (EMF) Shielding Technology eliminates up to 99% of harmful EMFs, while ordinary electric blankets generate large amounts of sustained EMFs. Shield Life's patented EMF Shielding technology allows for a maintained and rejuvenating night's rest.
Far Infrared (FIR) Heat and Negative Ions generated by the TheraMat maximize comfort. Through absorption of FIR heat, muscle tissue is safely and gently stimulated to bring you to a new level of wellness. While conventional space heaters can evaporate ambient moisture, dehydrating your body and drying out your skin, the TheraMat offers 9 levels of FIR heat that warm only desired areas.
Rated Voltage: AC 110-120V, 50-60Hz
Temperature Range: 85F - 190F
Single 74" x 38" x 2" SLE-XX39 15.0lbs 155W+_10%
Full 74" x 53" x 2" SLE-XX53 18.0lbs 155W+_10%
Queen 79" x 60" x 2" SLE-XX60 20.0lbs 256W+_10%
King 80" x 72" x 2" SLE-XX72 25.0lbs 310W+_10%
The Shield Life TheraMat Mattress Pads are hand crafted using the finest materials and most advanced components, turning your ordinary bed into plush, wellness sanctuary.